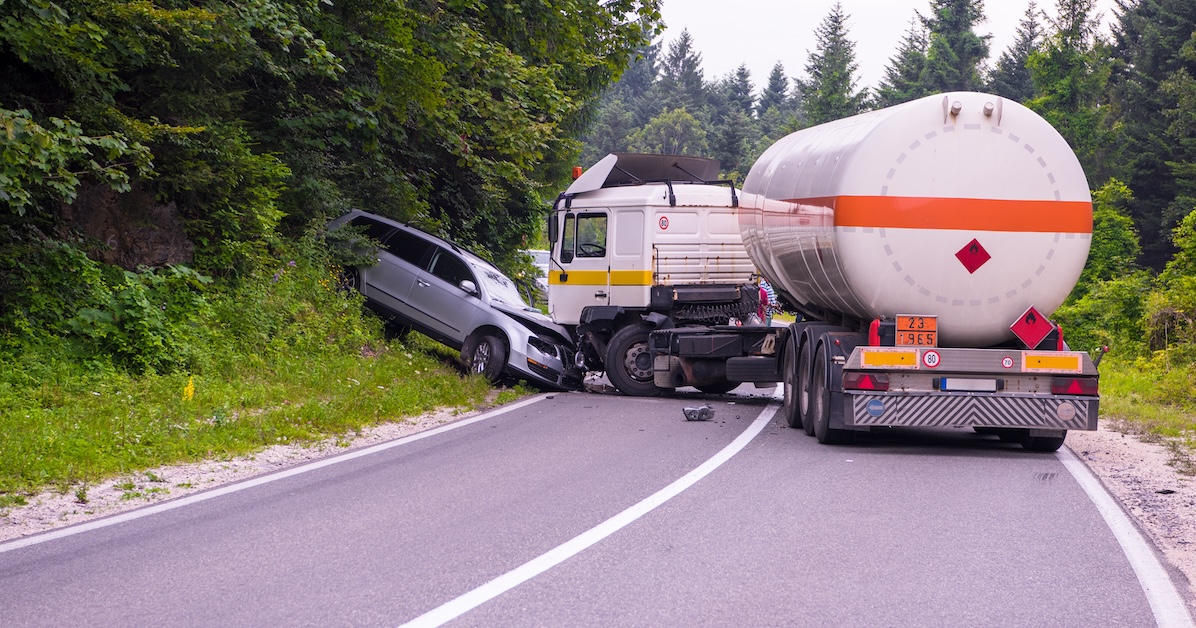 How Can a Johnson City Truck Accident Lawyer Help Me?
November 10, 2023
There are hundreds of thousands of truck accidents in the United States every year. Many result in property damage alone, but thousands result in serious or fatal injury as well. When you or someone you love is injured in a trucking accident, you may feel overwhelmed and unsure about your next steps. The Johnson City truck accident lawyers at The Haynes Firm are here to guide you through this complex legal maze.
The attorneys at our firm have decades of experience helping victims of truck accidents—and their families—seek fair and full compensation. We listen intently, care deeply, and fight tirelessly for our clients, acting as both sword and shield throughout the entire legal process.
Whether your case requires negotiation or litigation, we are prepared to protect your rights and help get you the compensation you deserve. If you've been involved in a truck accident in Johnson City or the surrounding areas, contact us for a FREE consultation and learn more about your options and rights.
What Does a Truck Accident Lawyer Do?
A truck accident attorney will play several roles when providing you with legal representation. Some of their key responsibilities include:
Investigating the Incident to Establish Liability. This may involve

Collecting Evidence
Interviewing Witnesses
Working with accident reconstruction experts

Gathering Important Evidence. This often includes a review of

Truck Logs
Black Box Data
Witness Statements
Photographic and Video Evidence
Medical Records
Filing the Necessary Paperwork and Legal Documents on Time
Negotiating with Insurance Companies for a Fair Settlement
Representing You in Court, If Necessary
Truck accidents are much more complex than those involving passenger cars alone. Having an experienced and proven attorney on your side helps to ensure your rights and best interests are protected.
The Johnson City truck accident lawyers at our office are intimately familiar with the laws and regulations concerning commercial vehicle accidents—both in Tennessee and throughout the country. We welcome the opportunity to meet with you FREE of cost and obligation, listen to your story, and provide straightforward advice on how best to seek compensation.
What Makes Truck Accidents So Complex?
Truck accidents present a unique set of complexities when compared to standard passenger car collisions. Some of the factors contributing to this complexity include:
Multiple Parties Can Be Liable in Trucking Accidents
The Truck Driver. At first glance, it may seem like the truck driver is the obvious party at fault. And indeed, driver error—from speeding and reckless driving to fatigue—often plays a role. However, the situation is seldom that straightforward.
The Trucking Company. In some cases, the trucking company can be held liable. They are responsible for ensuring their drivers are qualified and that their trucks are in good operating condition. They must also adhere to federal and state regulations concerning hours of service, maintenance schedules, and cargo weight limits. Failure on any of these fronts can make them a party to the lawsuit.
The Maintenance Company. Some trucking companies outsource vehicle maintenance. If an accident occurs due to mechanical failure—such as brake failure or a tire blowout—the company responsible for maintaining the truck can also be held accountable.
The Cargo Loader. Improperly loaded or secured cargo can shift during transit, causing the driver to lose control. In such cases, the company or individual responsible for loading the truck may be liable for the accident.
Manufacturers of the Truck or Any of Its Parts. If the accident was the result of a defective truck part, the manufacturer could also be held liable. This could range from faulty brakes to malfunctioning steering systems.
Each Party Will Have Different Insurance Policies
Each potentially liable party typically has its own insurance policy, adding another layer of complexity to the case. Dealing with multiple policies can create substantial legal challenges as each insurer tries to shift blame to other parties to minimize their financial responsibility.
To make matters more complex, commercial truck insurance policies usually provide greater financial coverage to protect the assets of the company compared to standard auto insurance. This can make insurers even more aggressive in their defense strategies.
Many Truck Accidents Involve Overlapping Jurisdictions
Big rig and commercial vehicle accidents often involve interstate drivers, meaning federal and state laws may come into play. Understanding which laws apply is an important part of assembling a case—and one that is best served by experienced legal counsel.
Tackling a truck accident case is rarely straightforward. Complicating factors make it all the more important to have an experienced Johnson City truck accident lawyer on your side as soon as possible. The Haynes Firm is ready to help whenever you need us. Reach out today to schedule your complimentary case evaluation and let us help you understand your rights.
Why It Makes Sense to Hire a Truck Accident Lawyer
Handling a big rig or commercial vehicle accident case can be a daunting experience, especially when trying to recover from your injuries. Having a truck accident lawyer can help simplify the process and play a decisive role in the resolution of your claim. Often, having an experienced truck accident lawyer on your side provides the leverage you need to get justice. Trying to handle the matter yourself can cost you significant compensation.
A truck accident lawyer offers:
A Comprehensive Understanding of the Law
Truck accident lawyers are well-versed in the numerous federal and state laws that govern commercial trucking. These can include Federal Motor Carrier Safety Administration Regulations and state-specific rules. Truck accident attorneys know how these laws can be leveraged to strengthen your case, giving you an advantage that you wouldn't have navigating the legal maze on your own.
Skill in Identifying Sources of Liability and Insurance Coverage
Identifying all the liable parties widens the pool of insurance policies from which you might claim damages. A knowledgeable attorney will have the resources and network to conduct an extensive investigation to pinpoint every entity that may share in the liability. This is essential for ensuring you don't leave potential compensation on the table.
Access to Damages Often Overlooked
Many victims of trucking accidents are aware that they can claim immediate losses like medical expenses and property damage. However, you might not realize that you can also claim for long-term effects such as future medical expenses, loss of earning capacity, and even non-economic damages like pain and suffering. A truck accident lawyer will understand how best to calculate these less obvious—yet equally significant—damages to fight for maximum compensation.
Experience in Preparing for Legal Proceedings
Should your case go to court, a truck accident attorney can prepare you for all phases of the trial, including depositions, the discovery process, and court appearances. They will craft compelling arguments, backed by evidence, to build the strongest case possible. This enables you to focus your time and energy on the more important process of recovery.
Ensuring Maximum Compensation
Ultimately, the goal of hiring an attorney is to secure the best possible outcome for your case. Lawyers adept in truck accident cases will have a history of verdicts and settlements, giving them the experience to know what a fair settlement looks like. They can skillfully negotiate with the opposition to help ensure you receive the maximum compensation you deserve, based on the specific circumstances of your case.
By hiring a skilled Johnson City Truck Accident Lawyer, you significantly boost your chances of receiving just compensation, while also sparing yourself the stress and complexity of navigating the legal landscape alone.
Contact Our Johnson City Truck Accident Lawyers Today!
With The Haynes Firm, you can rest assured that your claim is in the hands of experienced attorneys who are completely devoted to helping you get justice. Thoughtful, attentive, and thorough, we are prepared to take your case as far as needed to help secure the compensation you deserve.
If you've been involved in a truck accident in Johnson City, Kingsport, Bristol, Morristown, or a surrounding area of Tennessee, you don't have to face the legal battle alone. With stakes this high, having an experienced Johnson City truck accident lawyer by your side can make all the difference. Call us at (423) 928-0165 to schedule your FREE case review today.